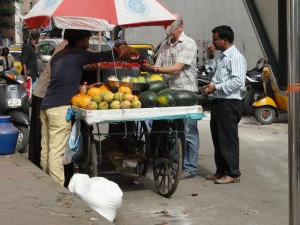 We arrived in India…less one bag but Jamie's bag arrived the very next day and delivered right to us!
We are so excited to be back here – and tried to prepare ourselves for the 38C weather – 90 to 100% humidity and power cuts.  Ah  yes, it all comes back to us 🙂
The hospitality and food have been amazing and I've already been able to speak at one church service as well as at a ladies group. Later this week we will visit a home for handicap youth as well as do a foot care clinic with a local doctor.
We went on a shopping day yesterday which proved to be another whole new experience.  It was a local day holiday – a day to shop!  For real!  Schools were closed so families could all go shopping for one day sales.  It was a mad house!!  We were able to purchase some clothes and I've already taken my saris and punjab suits to get stitched at the tailors….custom made – I like it!